Before the iphone, smart phones weren't so smart.  Steve Jobs had to explain the iphone was three things combined.
Before QUBE  content, human interaction and functionality weren't fully integrated…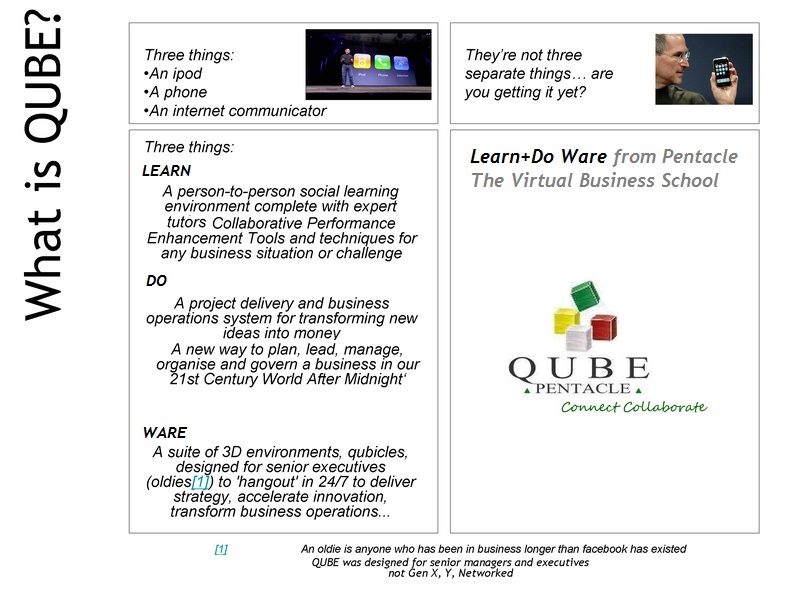 QUBE LEARN
 "Most of us spend our time reacting and planning rationally in response to a 20th century world we recognise and understand but which no longer exists".  Excerpt from World After Midnight
Eddie Obeng Learning Director  Pentacle The Virtual Business School 
Prof Eddie Obeng of Pentacle has developed innovative, practical concepts, tools and techniques to help you (Executives and Managers) navigate the complexity and ambiguity of the modern world.  Eddie Obeng's World After Midnight approach has been adopted by many of the world's top organisations, giving Pentacle an enviable client list.
Download Telefonica Use Case Story
On QUBE we use Performance Enhancement Tools (PETs) to facilitate collaboration.   QUBE tools aren't 'old stuff in a new wrapper'.
Petnacle's eFacilitators ensure you can understand and use the PETs.  Their role is to Provoke, Inspire, Educate Facilitate & Enable.   There are hundreds of popular award-winning PETs to suit almost every challenge.  On QUBE the PETs are pre-loaded into specialised virtual environments called qubicles.
9-minute 'live capture' video narrated personally by Prof Eddie Obeng, explaining what is happening during a 'teaching/coaching to perform' drumbeat session with Telefonica O2
The virtual environment has been designed with human factors as a key consideration and because participants 'take part actively' in what is going on (they can, since QUBE's software features ensure you can do all the things you would normally do in a physical learning environment) it can be so welcoming and engaging that sometimes people forget to eat, drink, or have comfort breaks!   Don't worry, the tutors will help manage the entire process, and make sure everything goes perfectly.
Until you have developed internal facilitators, initially QUBE qalls and worqshops will be led by Pentacle Tutors.  The tutors on QUBE are professional facilitators, trainers and coaches, who help you to solve your real business problems. Trained by Pentacle, The Virtual Business School, they get teams up and running quickly and working effectively together.
QUBE Do
QUBE empowers you to do things that are difficult or impossible to do in real life, such as gathering people, clients, suppliers or partners together from wherever they are in the world, across different continents, to participate in the passion and emotions of a high-quality workshop.
If you are the CEO you can 'be' everywhere in your global or distributed organisation without spending your life in airport lounges.  You can move from a culture of people having meetings to talk and then going off to do the work to one where you can be more effective and pragmatic.
 If you are driving innovation you can intimately involve customers and clients in the process as well as understanding how the rest of the organisation can contribute
 You can deliver projects or develop innovations without travel time or costs.   And by making use of the Pentacle Tools you can de-risk delivery and almost guarantee perfect projects.   By really including and engaging all the key people and stakeholders it enables you to overcome the normal resistance to change.
 You can create real social networks (enterprise networks) and communities which cross the globe and move knowledge and information sharing from a database to a human web which brings to life serendipity and chance meetings as well as tacit knowledge
 It enables you to transform your organisation by learning collaboratively with your colleagues.
QUBE  Ware (ENTERPRISE/SOCIAL MEDIA PLATFORM)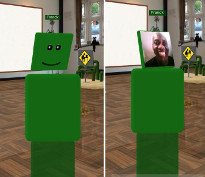 On QUBE you are a Qubot, able to speak with other people just as you would in the real world.  We have found industry-standard 'human-like' avatars undermine and distract from the key objectives of learning or doing real work – especially for 'grown-ups' and corporate users.  Qubots are gender-neutral, hierarchy-flattening (huge advantages in creativity and innovation work) and prejudice-free. Our simple 'boxy' qubot avatars have a further significant advantage: your webcam displays where your head is.  So you can have face-to-face conversations virtually on QUBE  😉
You can move around, physically interact and work shoulder-to-shoulder, literally, brainstorming with whiteboards and sticky notes.  You can open and work on spreadsheets together, and even sit around a table for a confidential conversation.  In the same way as you remain engaged and creative when you are involved you will feel excited about what you do on QUBE.
Technically, QUBE has more capabilities than the combined features of skype, lync, webex, secondlife, google hangout, yammer, facebook, dropbox, gotomeeting & adobeconnect. And yet it's extremely simple and intuitive to use.  No new skills are required.  If you can use a keyboard and a mouse, you can use QUBE