Which do you prefer?
Shallow software which forces you to skip from one narrow app to another, upgrading endlessly?
Or software designed as your 'platform for life'?

Ease of use:  Unlike the traditional software you will be familiar with, which only gives you a shallow experience, QUBE is deep. QUBE has more capabilities than the combined shallow features of skype, lync, webex, secondlife, google hangout, yammer, facebook, dropbox, gotomeeting & adobeconnect.
QUBE super-reality is designed to be your "platform for life".  And yet it's extremely simple and intuitive to use.  No new skills are required.  If you can use a keyboard and a mouse, you can use QUBE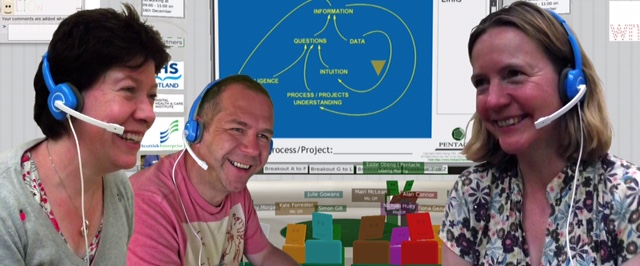 Natural feel:  In less than 15 minutes you will forget you are looking at a screen as you move freely, physically interact, chat and work shoulder to shoulder, literally, brainstorming with whiteboards and sticky notes.  You can open and work on spreadsheets together, and even sit around a table for a confidential conversation.
This is important because – unlike traditional apps and software and the shallow experience they provide, QUBE's  makes you truly involved and provides a deep experience matching, and often better than, your normal  life.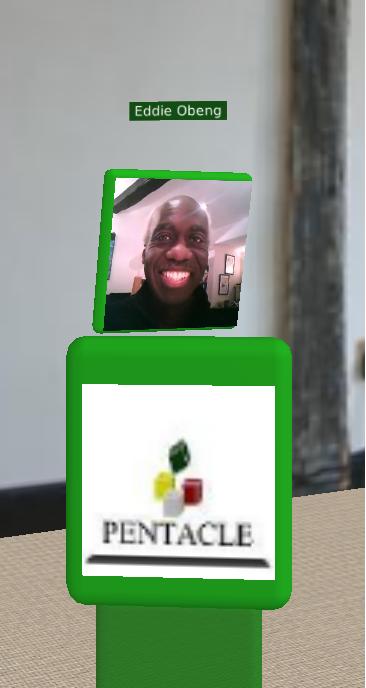 Cultural modernisation:  On QUBE you are a qubot, able to speak with other people just as you would in the real world.  Our research shows that industry-standard 'human-like' avatars undermine and distract from the key objectives of learning or doing real work – especially for people over the age of 30 and corporate users.
Qubots are:
gender-neutral,
hierarchy-flattening (huge advantages in creativity and innovation work)
prejudice-free.
Our simple 'boxy' qubot avatars have a further significant advantage: your webcam displays where your square head is.  So you can have face-to-face conversations virtually on QUBE ;-).
Functionality: Don't bother asking can QUBE…?  Remember it is deep-ware There are only two answers.  "Yes!" and "Why would you want to do that in a digital world?"
SuperReality:  This is how you get your superpowers in; Collaboration, Engagement, Buy-In, Overcoming resistance to change, Sharing a common process, Ensuring access by all stakeholders, Getting control of information, Crossing timezones instantly, Bridging cultural gaps and having a single place to look!
Real life/ normal way of doing things and the challenges it brings.
SR (SuperReality) methods and behaviours and how they give us 'super powers'.
---
People begin meetings without clarifying objectives and simply 'chat'. Significant time is taken up deciding how to work together.
Fast alignment of many people/ big egos using Hopes&Fears
TM
P
ET
Hidden agendas,and power politics prevent easy open discussion.
Neutral genderless, hierarchy-less avatars (qubots) enable open & frank conversations.
Difficulty in focussing attention on the topic People are distracted by smart devices during presentations.
Easy coordination of people by enabling, 'Meet here', 'All follow me'.
Spoken discussion means that contributions are serial not parallel.
Ability for multiple people to simultaneously create solutions in parallel.
Secondary 1:1 conversations are required to cover sensitive topics.
Ability to share sensitive issues and comment anonymously.
A typical conference call is one person speaking and twelve people continuing to do their emails. There is little involvement and engagement and so no buy-in to decisions.
Full attention and full participation through SpinCasting
TM
Method .
Remote/ distributed people looking at different parts of/ versions of the documents being discussed (if at all).
Single point of view on posters/ documents.
Decisions/ actions are captured independently by participants. Making tracking impossible.
Capture of all actions to prevent dropping key actions using RAPID
TM
PET.
Serial working as the work/ document is passed back and forth for comment.
Parallel working – e.g. using colour coded sticky notes is much faster (and legible) than real life.
Transience – At the end of a meeting or conference call all the materials and information evaporates unless someoen has taken notes.
Persistence – Everything remains where it is left 24*7*366 until someone alters it.
Versions of documents are routinely emailed or may be stored on a shared drive. Difficult to be certain you are reading the most up to date version.
Documents stored as 'One Version of The Truth'.
In physical project rooms/ war rooms more data displayed requires proportionally more space.
Multi-tab whiteboards which store 15 times as much as a single board.
In physical project rooms/ war rooms more data displayed requires proportionally more space.
Non-distortion by scale – Posters, PETs and documents are equally easy to read regardless of size.
It is difficult for new members or participants who have missed a session to catch-up without taking extra time of someone up—to-speed.
Welcome messages; Video/Text/ slideshows which are shown automatically upon entry to a (room) qubicle to bring people up to speed.
Additional conversations to coordinate non attendees.
Video Timeshift – Instant time-stamping of all materials.
Conversation proceeds at a rate to suit the most vocal.
Focus on images and capturing points and thoughts as text make it possible to follow the full argument development & audit track later.
People who so not have English as their first language have to work hard to be understood.
Language – In-qubicle translation is possible.
People who do not have English as their first language an often get 'lost'.
Use of standardised PETs means everyone always know what's going on.
Sub-conversations interrupt the flow of the main conversations.
Three parallel channels, voice, group chat and private chat.
During the working day people use multiple screens with multiple apps and multiple methods for communication.
Single place – QUBE deep-ware functionality is shallow-ware; lync, skype, jive, video conferencing, adobe connect, text messaging and conference calls all in a single easy to reach place