'Being spontaneous' may take a lot of practice but 'Being yourself ' just means a moment to get comfortable

Show me, I'll forget,
Guide me, I'll think I understand,
Involve me, I'll learn and value the experience.
Show me
All you need to know in 90 seconds:

Guide me
Book an assisted orientation session with QUBE admin when you complete your Entry Pass registration.
Involve me
Start QUBE now and orient.  Or arrive for your first QUBE qall/ worqshop at least a quarter of an hour early.  
You don't need to do anything special. The first time you log onto QUBE you will automatically be taken to orientation.
Check your signal strength.  A poor connection is a real hassle.
 How to check your signal strength on QUBE:
There is limited space to show the standard signal symbol

 on QUBE.  So check:
---

Perfect

OK

Poor

Unstable
---
Be oriented so that you won't hold your colleagues back or be left behind asking basic questions like "So how do I move?" "How do I add some stickies to our brainstorm?"  "How come I can't hear you now you're sitting down?"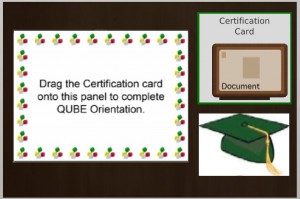 Collect your certificate (like a driving licence – see image above) at the end.   Then next time on QUBE you'll be free to go wherever you want!