New? Your chance to Experience QUBE.
Community? Learn, catch up network.

#SOCIALMEDIA
September 19th 16.30-18.00 BST
Marc Binkley – managing director & director of digital strategy at Anstice Communications
 Ignoring Vanity Metrics of Social in Favour of Measuring Four Growth Levers for Business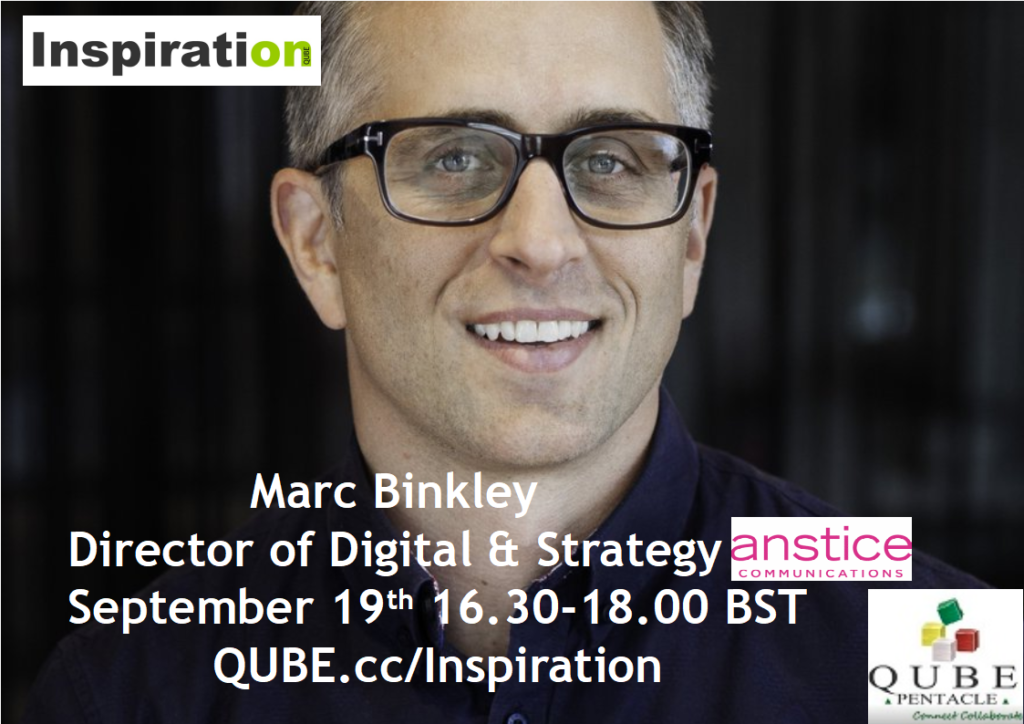 Marc Binkley is managing director and director of digital marketing strategy at Anstice Communications. Prior to this he was the marketing manager, social media for Sport Check during his time at FGL, which saw him lead a high-performing team in planning and activating an omni-channel marketing strategy that drove award-winning campaigns and three years of unmatched sales growth for the brand.
He is an industry expert in fostering brand awareness, generating traffic and driving engagement through the development strategic and relevant content, all in an effort to deepen the brand's connection to its customer.
Marc founded the Social Media for Business certificate program at Mount Royal University in Calgary, Alberta. During that time he also ran his own social media brand strategy consultancy firm called Sleeping Barber. Outside of the office, Marc spends a lot of his time reading about branding and innovation, plays hockey, skis and rides mountain bikes.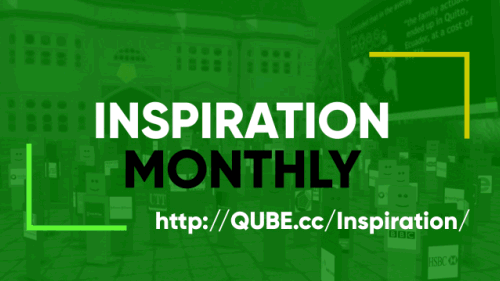 Upcoming Events:
QUBE@WORK:

COMMUNICATION

In partnership with the Major Projects Knowledge Hub

August 15th 17:15-19:00 BST

SOCIAL MEDIA

Marc Binkley, managing director & director of digital marketing strategy at Anstice Communications

September 19th 16:30 to 18:00 BST

QUBE@WORK:

BENCHMARKING

In partnership with the Major Projects Knowledge Hub

October 17th 17:30 to 19:00 BST
Previous Events 2019:
AGILITY

Sir Tim Smit KBE, co-founder of the Eden Project

QUBE@WORK:

STAKEHOLDER MANAGEMENT

In partnership with the Major Projects Knowledge Hub

STORYTELLING

Alexander Grabner-Jarlung, CEO of David JP Phillips US and international public speaker

QUBE@WORK:

DECISION MAKING

In partnership with the Major Projects Knowledge Hub

QUBE@WORK:

AGILE WORKING

In partnership with the Major Projects Knowledge Hub

LEADERSHIP

Jim DuBois, CIOx Microsoft, tech adviser and board member

INCLUSION

Peter Cheese, chief executive of CIPD

July 18th 12:30-14:00 BST

New Venue:
Auditorium Style Theatre with Café Tables for Networking , Breakout Areas and Exhibition Stands

2015 Speakers: David Gram – LEGO, Geoff Burch, Peter Hinssen, Elisabetta Galli -Wolters Kluwer, Patrick Affleck – Dentsu Aegis Network, Giles Cross – Sanlam, Roy Sheppard, Ken Banks, Dr Tam Watchorn – NHS, Eddie Obeng – Pentacle the Virtual Business School
2016 Speakers: Philip Gennoy – Allianz, Tim Bean, Geoff Burch, Dr Tam Watchorn – NHS, David Lomas – Pentacle the Virtual Business School
2017 Speakers: Julian Treasure, Carole Osterweil, John Chapman, Adrian Malone – Atkins, Will Stevens, Stephen Carver, Dr Letitia Obeng, Jason Huggins – Uniface, Dr G Keith Still, Robin Stopford – Spectris
2018 Speakers: An Coppens, Rob Law MBE – Trunki, Ali Gursoy, Suzanne Whyte, Calum Thomson & Tina Watson – NHS, Vivian Ihaza, Prof Chris Oliver – University of Edinburgh, Andrea Kershaw, Dr Tam Watchorn – NHS, Prof Eddie Obeng – Pentacle the Virtual Business School (March, December)