What if you could increase your productivity five times?
What if you could learn how to cruise through our volatile and uncertain world?
Contact us or get the QUBE app to get started now.

Watch the QUBE explainer video here>>
Watch more real-life Client stories here>>
QUBE is not a faster horse!
QUBE LEARN:  
With QUBE you can easily halve the costs of a conventional course or learning intervention while doubling the engagement and emotional involvement, doubling the retention.
QUBE DO/DELIVER:
You can easily double the speed of application and delivery of the associated work and overcome resistance to change and 'not invented here' mindsets.
For example, clients have said that QUBE is perfect for when you need to:
Deliver innovation
Learn collaboratively with your colleagues to overcome resistance to change
Drive innovation faster
Free up investment
Release resources
Bring results in faster
Reduce spending
Build high-performing global teams
Download QUBE-Ware comparison with other Digital software
Do any of these challenges sound familiar? The Project, The Strategy Meeting, The Conference, The Innovation Workshop
The Project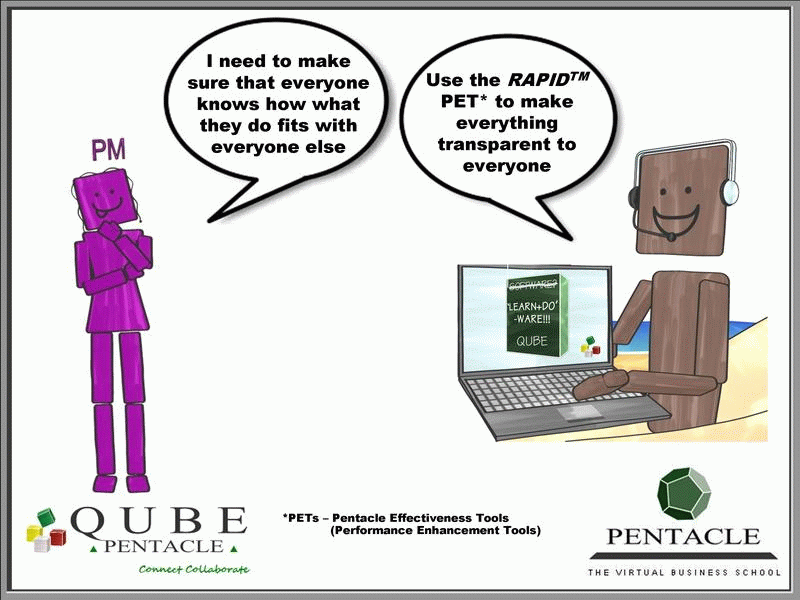 On QUBE:
You have a short regular (DrumBeet) meeting every week to keep the momentum going. A Pentacle Tutor works with the team using tools and concepts to help work through challenges. The team makes regular progress. No costly hotels, flights, or dinners.
The Strategy Meeting
On QUBE:
The leadership team conserves time, resources and emotional energy. You focus on making decisions and getting the strategy confirmed. Pentacle tutors help you to facilitate the team. Work is stored and accessible without further processing and emailing.  There is no 'return to work' since the QUBE workshop is 'without boundaries'.  Following up to clarify, lead or collaborate on progress every day for a quarter of an hour is effortless and increases the chances of success.
The Course/ The Conference
On QUBE:
You learn and collaborate in a space with the usual flip charts and whiteboards. You break for a few hours or days, and the room stays as you left it. No cleaners throwing things away. The project team in Asia can work, then the European team can take over in the same space. A few hours later the Americas team can add their contributions.
The Innovation Workshop
On QUBE:
Not only are your new ideas already documented digitally, the innovation PET enhances the typical brainstorming method and eliminates the list of ideas. You arrive at innovative results in a more efficient and effective way, while ensuring the new ideas stick.