Make your own current skills obsolete yourself before someone or some digital algorithm does

Why should I be interested?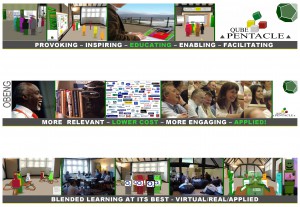 Harvard Business Review said, "Executive Education is Ripe for Online Disruption."
That is what QUBE is.
QUBE is the NEXT BIG DIGITAL DISRUPTIVE THING in Learning, Development and Delivery.
You can be part of the movement,. Learn how to really do digital.  Teach, coach and facilitate workshops on QUBE.
<A good article from the Training Journal Blog>
What will I get out of the course?
You will learn the skills & tricks and techniques for delivering engaging and immersive sessions.
You will learn :
how to project your personality on-line and make the experience great for participants
tools and techniques* for collaborative and transversal working to succeed in our World After Midnight.
*Prof Obeng has created hundreds of award winning, on-line-friendly frameworks which make learning and application practical, fun and effective!)  Thoroughly proven you can find out more about Pentacle The Virtual Business School's Financial Times/Fortune 500 clients.
What is the structure of the course?
There are three available levels depending on your current skill level with online facilitation and your understanding and knowledge of the World After Midnight concepts and approach.
Foundation
Core
MaterClass
Essentials of QUBE facilitation to designing and running a Workshop  £750
Workshop Content, Key Frameworks for Core Topics: Inventing Tomorrow/ Delivering Tomorrow/ Delivering Today/ Ensuring Results/ Leading & Organising   £1500
Using QUBE for; Client engagement, Frameworks for issue diagnosis, Design of major intervention using QUBE, Essentials of delivery, Culture change and Embedding learning  £3000
Who will lead the course?
The course will be delivered  by an excellent team from Pentacle including Prof Obeng.  Eddie is one of the best presenters in the world, renowned for his TED talks and contributions to Google Zeitgeist.   The Course Director is Leonardo Teixeira and the Course Administrator Tracy Breeze who you can contact for more details.  You can also reach Pentacle by phone on +44 1494 678555 or arrange to meet on QUBE .
When is the course happening?
The dates for the Winter 2019 course are:
Tuesday 19th November, 17.00 to 19.00 GMT
Tuesday 26th November, 17.00 to 19.00 GMT
Tuesday 3rd December, 17.00 to 19.00 GMT
Tuesday 10th December, 17.00 to 19.00 GMT
Delegates are required to attend all four sessions in order to complete the course. There will also be homework set between sessions.
What is the outcome?
Once you're done, we'll certify you as having been on a course at Pentacle "The world's first Virtual Business School (established. 1994)" and we'll look out for opportunities to involve you in Pentacle client assignments – but of course you can also develop and run your own assignments using our materials and frameworks.
What do I do now?
1.   Download the brochure to study or share with your line manager. It contains a detailed breakdown of the coverage.  We run four courses each year in Spring, Summer Autumn and Winter.  Course dates are be flexible to meet the group's needs.
2.   Register